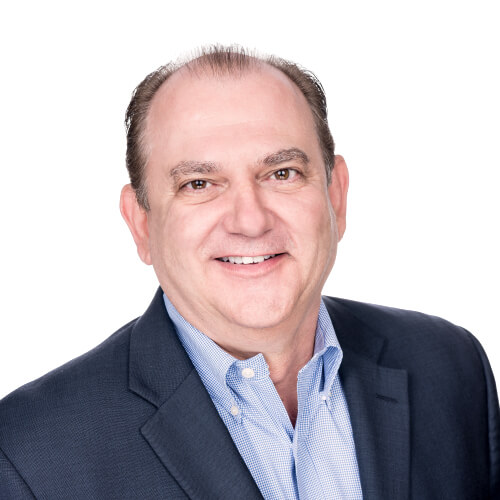 John Bradshaw
Unleashing the Power of Procurement – an Argosy Partner Post by Beckway
Our latest blog comes courtesy of our partner Beckway, a private equity operating company specializing in improving the value of privately held businesses. Beckway provides procurement support to Argosy and several of our portfolio companies.
Whether you refer to your largest spending organization as purchasing or procurement, upper management often overlooks the sustainable financial benefits that strategic procurement offer a company. Procurement saving is the most efficient way to increase earnings before interest, taxes, depreciation, and amortization (EBITDA).
In our experience, low performers in procurement lose five percentage points in EBITDA margin compared to high performers.
Procurement and purchasing are often used interchangeably. However, at the highest level, procurement is a proactive strategic process, and purchasing is a reactive transactional activity and a strategic sourcing component.

Click to enlarge image. Image Source: Beckway
"The key to transforming purchasing into procurement is an end-to-end view of the integrated process."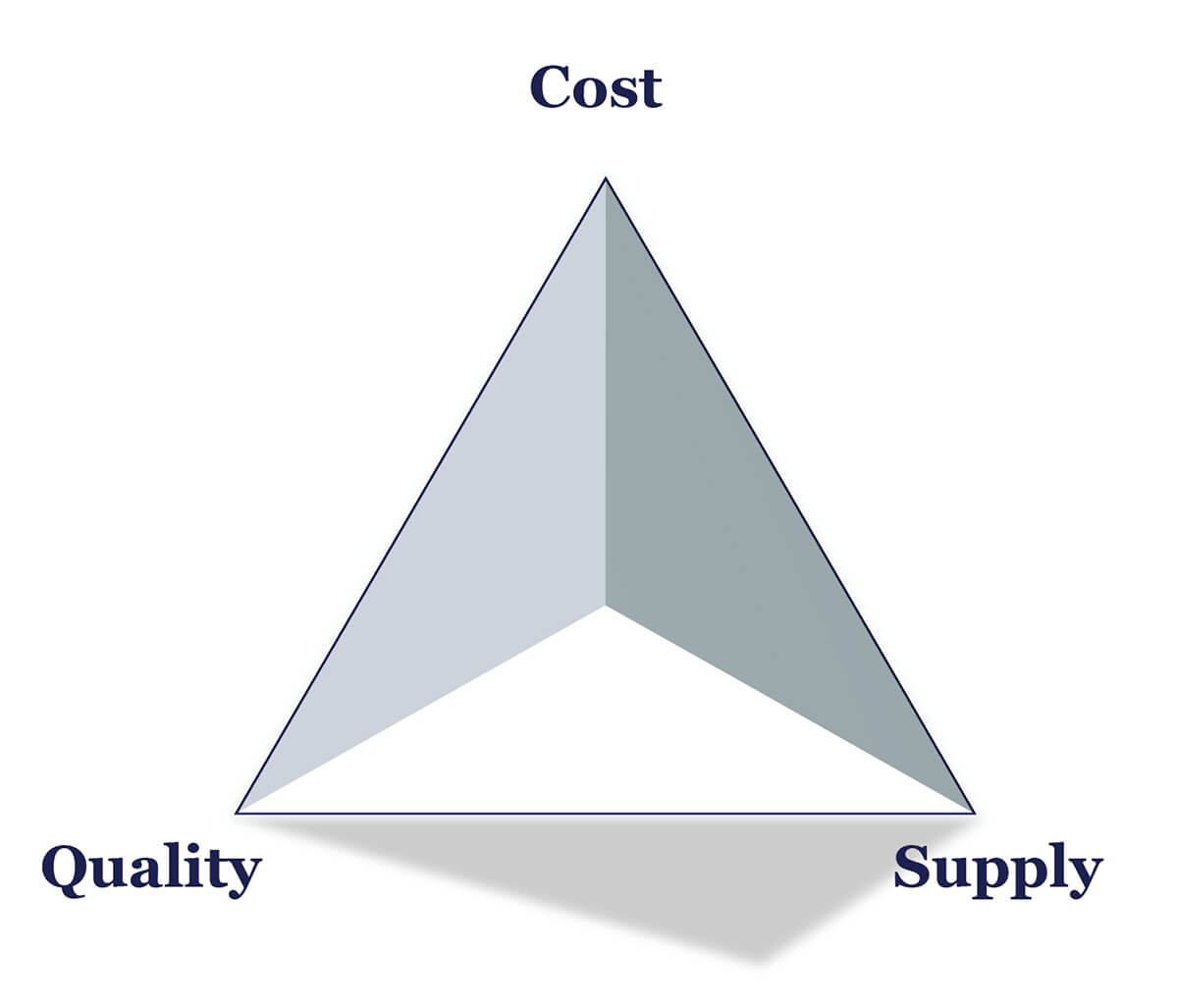 Click to enlarge image. Image Source: Beckway
While purchasing is usually just about the price, procurement is much broader and focused on extracting the best value for the money spent. Procurement's goals are to tightly balance the Total Cost of Ownership (TCO), Incoming Quality, and Continuity of Supply.
Achieving procurement maturity involves a journey of four stages (Informal, Functional, Cross-Functional, and Integrated). This transformation usually ranges from 12 to 36 months, depending on the size and complexity of the business.
Procurement saving is the most efficient way to increase EBITDA because:
Focusing on direct and indirect savings is a faster route to a significant increase in enterprise value.
Procurement saving has a leverage effect – modest decreases in costs equate to large increases in profitability.
Procurement initiatives are self-funding, even when outside resources are necessary.
Success improves profitability, synchronizes values, and enhances integration between procurement and other business areas.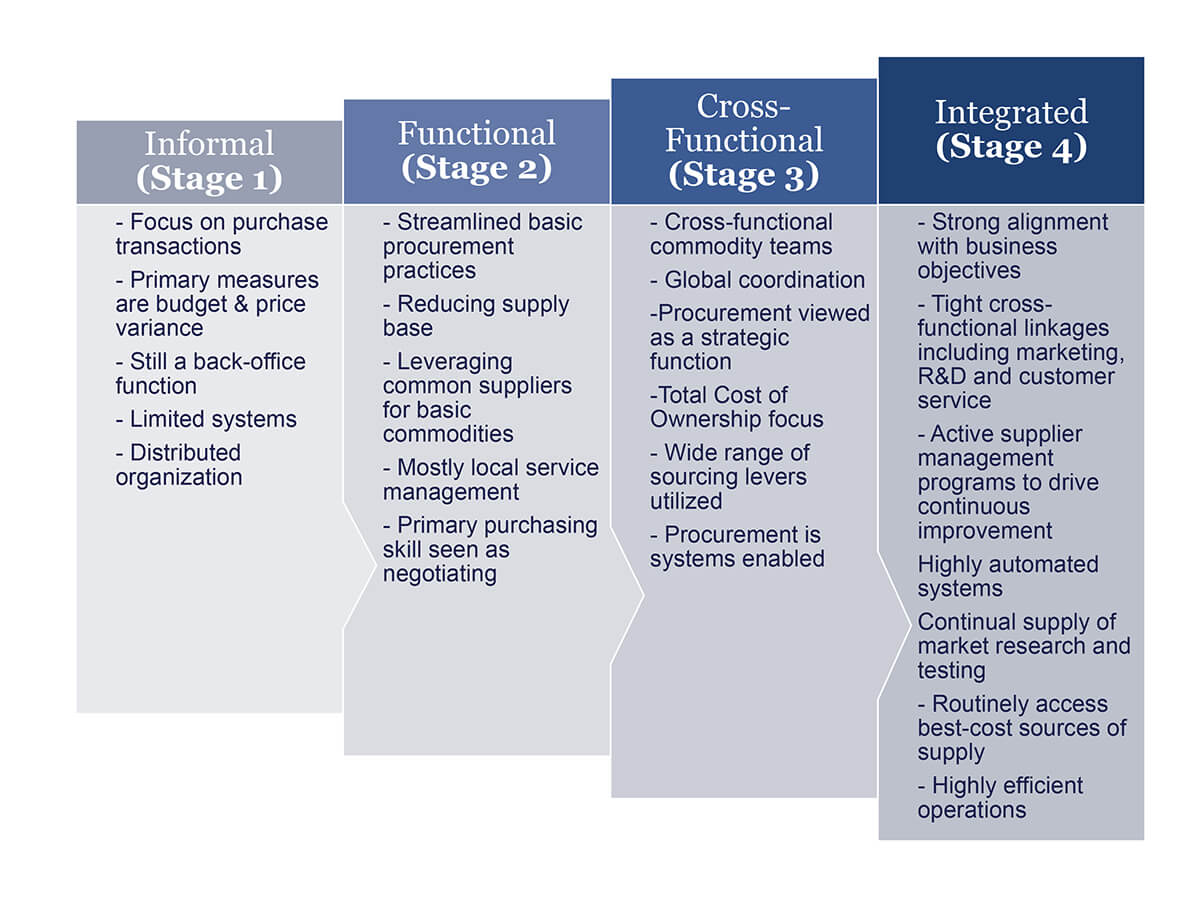 Click to enlarge image. Image Source: Beckway
The benefits of strategic procurement are numerous:
Corporate efficiency
Procurement: Centralized organization focused on managing and controlling company spend
Business Units: More time to focus on selling and less need for supplier management
Accounting/Finance: Improved visibility to spend and a clear view of savings opportunities
Efficiency through process and policies
Consolidated purchasing, reduced rogue spending, better and more accurate data
Standardization of payment terms
Standardized and expanded payment terms to improve working capital and simplify the payment process
Stronger supplier relationship management (SRM)
Standardizing shipping modes
Leveraging of total company freight spend to reduce costs
Reduced reliance on suppliers managing supply chain
Establishment of the procurement function as a strategic business partner to the organization
Designing a scalable environment for procurement to sustain future growth
Attracting procurement talent to the company
Beckway has completed many procurement transformation engagements, from assessment to interim Chief Procurement Officer roles to strategic procurement implementation. Procurement transformation engagements are self-funding and deliver sustainable savings. Typical annual procurement savings range from 5%-16%, with a return on investment (ROI) in the 6-9% range.
Takeaway
If you want to increase EBITDA, invest in strategic procurement. Procurement is a function that provides a year-over-year sustainable advantage for your business. Businesses without a strategic spend organization lose 5% of EBITDA annually.
Questions? Connect with us to learn how we help businesses like yours transform purchasing into procurement.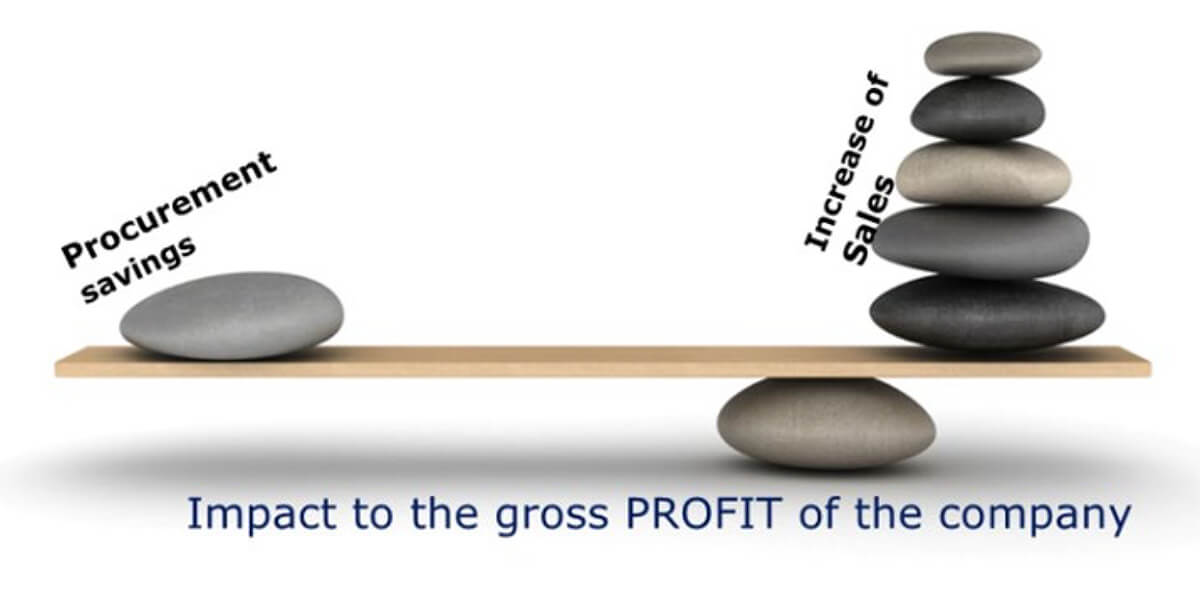 Click to enlarge image. Image Source: Beckway
Partner Highlight
At Beckway, we are operators, not consultants. Our team of Trailblazers does not just identify the problem and leave you to fix it. We are hands-on and improvement-focused, executing holistic solutions that make your business stronger, more resilient, and future-ready. Want to learn more? Contact Beckway Senior Partner & Procurement Practice Lead John Bradshaw.